Michael Portillo to give Jersey Holocaust Memorial address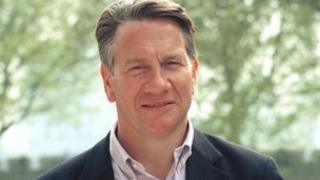 Former UK cabinet minister Michael Portillo is to deliver Jersey's Holocaust Memorial Day address.
The organising committee invited Mr Portillo to lay a wreath on behalf of the families of the Spanish Republicans who lived in Jersey after World War II.
Islanders remember the 22 men and women who lost their lives in Nazi camps and prisons on 27 January each year.
The focus this year is the plight of the 17,000 foreign workers who suffered during the German Occupation of Jersey.
The majority of the workers came from Russia, Ukraine and Belarus. Other nationalities included Poles, Belgians, French, French North Africans and Spanish Republicans.
Mr Portillo's father, a professor in Salamanca before the Spanish Civil War, served on the Republican side but refused to fire a weapon. He was forced to flee to Britain as a refugee and spent much of his life in exile.
'Tragic events'
Paula Thelwell, the chair of the Holocaust Memorial Day committee Jersey, said: "We are honoured that Michael [Portillo] will be joining us to remember those who suffered for their beliefs, culture and lifestyles or who were the victims of war and occupation.
"The tragic events of the Occupation shattered many families' lives for generations, just as in Spain."
Mr Portillo said: "I am moved to be invited to this important ceremony.
"In most of the British Isles there was no direct experience of occupation, and it is important that we remember the exceptional cases such as Jersey.
"Even today, the world around us offers many examples of repression and atrocity.
"We should not neglect their suffering, nor assume that democracy and human rights are safe unless we are willing to be vigilant and to fight off threats to them."
The commemoration will take place at 13:00 GMT on 27 January at the Occupation Tapestry Gallery at the Maritime Museum in St Helier.