Drink-drivers arrested after calls from islanders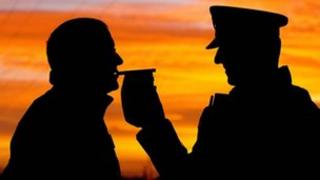 Four of 20 people arrested for drinking and driving in December were held after calls from people in Jersey.
The States of Jersey police asked islanders to report their friends for drinking and driving.
It was part of the "don't let them get away with it" theme for the 2011 campaign.
Road safety officer Philip Blake said he was grateful to those who reported drink-drivers as it could have prevented a serious road accident.
He said one driver arrested in the afternoon was found to be three times over the limit.
The police said throughout the year, 217 people had been arrested for drinking and driving, compared to 198 in 2010.
He said: "It's disappointing that drivers are still drinking before getting behind the wheel with no concern for the risks to themselves or others."
The police said they had taken a "proactive approach to road safety" in 2011 which they believed had resulted in the lowest number of drink-drive crashes in the past ten years, with a total for the year of 44, compared to 67 in 2010.