St Helier Lifeboat pull raises £1,900 for RNLI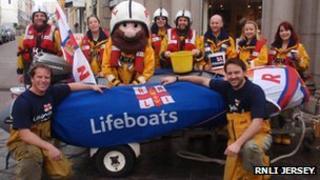 The St Helier lifeboat crew raised £1,900 for the RNLI at a boat pull in King Street in Jersey.
Ten members of the crew helped to pull the Y-class lifeboat around St Helier on Saturday.
Three crew members are also planning to run the London Marathon and aim to raise £6,900 for the charity.
The money raised will go to the RNLI head office and will be redistributed as updated kit, such as life jackets for the crew.
Full-time crew member Jonathan Cornick and volunteer crew members Adam Fabian and Bart Messervy-Evans will be running the London Marathon on 22 April.
It will be the second time Mr Cornick and Mr Fabian have run the marathon in aid of the RNLI.
Mr Cornick said: "Everyone was very generous, the boat pull raised £1,900 which is fantastic. Thank you so much to the public."