Jersey cycle routes improved to attract commuters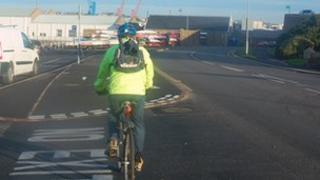 Work has started to widen a cycle track in St Helier in Jersey.
It is the latest phase of a project to provide a fully off road cycle route from Havre des Pas to link with the existing western cycle track.
David St George, the manager of Transport Policy, said they wanted to increase the number of people who commuted to work by bicycle.
He said Jersey was the perfect place to ride a bike because of its mild climate and good cycle network from the west.
Transport and technical services (TTS) is widening the cycle route next to Castle Street roundabout and where it crosses Route de Port Elizabeth because it is shared with pedestrians.
'Opportunities'
TTS said a few small trees would be removed and replaced by trees of four metres in height.
The existing pathway from the Steam Clock and the New North Quay is also being improved.
Work on both paths should be completed in about six weeks.
Mr St George said there are still plans for an eastern cycle track.
"It's going to be hard to get something that compares with the old railway route to the west, as the railway route to the east has been built upon for almost all of its length, but we're working on that.
"There's certainly opportunities out to the east, we've already put in a significant length of cycle route along the Commercial Buildings, the southern route we call it, from by Liberation Square right through to Havre des Pas and that's nearly complete now."