Implant surgery for Jersey public patients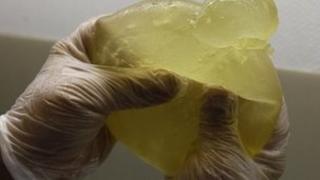 Jersey's health service said if any public patients had PIP breast implants it would replace them for free.
Adrian Grobbelar, a consultant plastic surgeon who had used the implants on Jersey patients offered his time for free to remove them.
But ministers said they will not fund scanning or removal of any implants for private patients who have had surgery.
PIP implants were banned last year after it was found they contained a non-medical grade silicone filler.
A spokesman for the health and social services department said: "HSSD does not routinely commission breast implants except for reconstructive surgery following mastectomy."
He added: "We are not aware of any of our public patients who have had breast surgery in Jersey, or via referral in Winchester, who have PIP implants.
"In the event that PIP implants have been used for any of our patients, we would replace them free of charge, based on a clinical assessment."
'Monitor situation'
But he said: "We currently have no plans to fund the scanning or removal of PIP, or any other implants, used for private patients who elected to have surgery for cosmetic reasons overseas.
"We will however monitor the situation and the advice being issued by the MHRA [Medicines and Healthcare products Regulatory Agency] which regulates medical devices in UK."
The health department said any women who have had breast implants for cosmetic reasons should contact the clinic that provided them to discuss their options.
Dr Susan Turnbull, Jersey's Medical Officer of Health, said: "There is no suggestion that any urgent action is needed on the basis of possible PIP risk."