Plan to restore Jersey's Forgotten Forest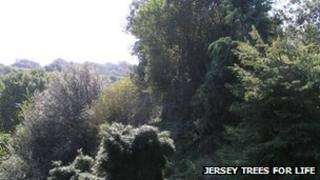 Jersey Trees for Life is working to restore Jersey's Forgotten Forest, an arboretum at Val de la Mare.
The 50,000 sq m arboretum has tree specimens from all over the world, including Australasia, America and Japan.
The trees were planted in the late 1970s and early 1980s but are now overgrown from a lack of maintenance.
The charity which cares for Jersey's trees is celebrating its 75th anniversary this year.
It has chosen the milestone to embark on the project to regenerate the arboretum in time for an open weekend later this year.
'Lasting legacy'
Jersey Trees for Life is starting a competition for schoolchildren to design a distinctive logo for the Forgotten Forest.
Michel Morel, Jersey Trees for Life's education and administration officer, said: "The winning design is likely to be visible in Jersey for a very long time and will, therefore, have a lasting legacy for the winner."
Jersey Electricity is sponsoring the competition with a £500 cash prize and has pledged to donate £5 for every customer who switches from paper bills to bills by email.
Chris Ambler, from Jersey Electricity, said: "The planting and maintenance of trees is important for our environment and the regeneration of this unique woodland is of particular significance to the island.
"By involving schoolchildren at the outset, we hope it will encourage their long-term interest in this particular project and protect our island environment generally."
There will also be a special stamp issue by Jersey Post to mark the charity's anniversary.
The charity was set up in the island in 1937 as the Jersey Association of the Men of the Trees.
Four years ago in 2008 the charity changed its name to Jersey Trees for Life.
It has been responsible for planting tens of thousands of trees around the island in the past 75 years.