Kayaker rescued off Jersey coast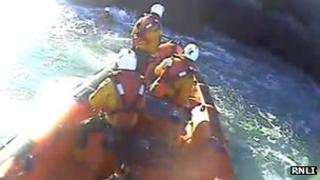 A kayaker was rescued by St Catherine's lifeboat after capsizing and being washed onto rocks off Jersey's north-east coast.
The Atlantic 85 class lifeboat was launched in rough seas and force five winds at about 11:00 GMT on Saturday.
The man, who was stranded on rocks north-east of La Coupe Point, was believed to be suffering from hypothermia.
A crew member jumped into the sea and swam to the kayaker.
A lifeboat spokesman said: "The kayaker was extremely cold and suffering minor cuts and abrasions after having clambered onto the rocks."
He was treated with oxygen at the scene before being carried across the rocks by the lifeboat team and taken to Jersey's General Hospital by ambulance.
The remaining crew members collected the man's kayak which had been retrieved by another vessel in St Catherine's Bay.