Jersey man gets island's 'highest' grades for building qualification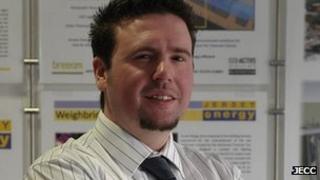 A Jersey student has been honoured for getting what are thought to be the island's highest grades in a building qualification.
Stuart Gray got a Jersey Construction Council Award for outstanding achievement at Highlands College.
Mr Gray, 31, got a Distinction in all 17 modules of the level five BTEC Higher National Certificate in Building Studies.
His tutor Tony Bechelet said it was a remarkable achievement.
He said: "I have no recollection of any student achieving this before."
'Gruelling'
Mr Gray, a building services engineer, completed his HNC during two years of part-time study supported by his employers.
He also completed his advanced Professional Diploma in Building Services Design with the University of London South Bank with another Distinction.
This now means he can can do a Masters Science Degree.
Mr Gray said: "It was quite gruelling hours to complete both courses while working full-time.
"The 12-hour Diploma exam was from 6am to 6pm and it was the only time the boss has made the tea for me."