BBC Radio Jersey wants night sky photos from islanders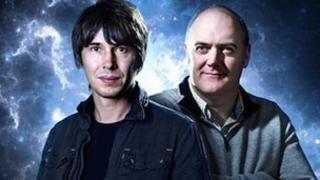 BBC Radio Jersey hopes people will share photos of the sky above their homes to create a picture of the sky at night.
BBC Stargazing Live returns later and Professor Brian Cox and Dara O'Briain will be broadcasting live from the Jodrell Bank telescope in Cheshire.
They want to explain the sky above and the effects of light pollution.
BBC reporter Janey Doyle will be broadcasting from dark sky island, Sark, to see what can be spotted when there is no light pollution.
Sark was the first island in the world to be recognised by the International Dark-sky Association.
Sark has no public street lighting and some residents and businesses altered their lights to ensure as little light as possible spilt upwards to make the island more friendly to those wanting to view the night sky.
To measure the impact of street lights, offices and homes on the night sky, BBC Radio Jersey wants people to send in a photo of the sky above them.
Take a photo and post it with the details of where and when it was taken to the BBC Jersey Facebook page or e-mail it to radiojersey@bbc.co.uk.