Islanders give up their Christmas to trek for charity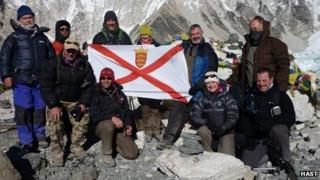 A group of nine people from Jersey gave up their Christmas to trek to Everest Base Camp for charity.
The eleven-day trek covered tough terrain and at altitudes of more than 17,500ft, and two of the group went on to Kala Patthar at 18,192ft.
They raised more than £6,500 for the Help an African Schoolchild (HAST) charity, and money is still coming in.
The charity helps improve living conditions, and educational standards and facilities in Zambia and Tanzania.
Two of the people in the group are tutors at Jersey's Highlands College.
Steve Turner, 59, and Elaine Richomme, 48, said they wanted a challenge before they became too old.
Ms Richomme said: "We were also keen to do something for a charity that promoted educational benefits, so chose Help an African Schoolchild and trained and trekked with Vanessa [Nash] and Kevin [Daly], its founders in Spring 2010 to Kilimanjaro.
"We then got bitten by the bug and a number of our fellow trekkers talked about the possibility of going to Base Camp, so we signed ourselves up for this, again supporting Help an African Schoolchild."
'Very smelly'
She said both treks were hard but Everest was the harder of the two.
She said: "This was partly due to the length of the trek and also to the extreme cold temperatures.
"It was lovely during the day and we trekked in t-shirts; however, when the sun went down, so did the temperature. It was also very cold overnight even indoors."
Ms Richomme said they had to be "made of strong stuff" because the tea-houses they stayed in were basic and the toilet facilities were usually holes in the ground.
She said: "We did not have a wash for about seven days at one point, so we were very smelly. Thank god for wet wipes."
But she said the atmosphere on the trek was excellent and everyone looked after each other.
She said: "Nobody got any blisters which was amazing considering we were trekking most days for up to seven to eight hours."
She said that when they were on their way up everyone found the altitude difficult but they all felt so much better on the way down.
Ms Richomme said: "Being away from family and friends was also difficult at Christmas and new year, but it was still a very worthwhile thing to do for the charity.
"We had a Secret Santa on Christmas Day and we all took something festive to eat or drink and share, but gave up alcohol until we reached base camp and then just celebrated on the way down."
She added: "On New Year's Eve when we were all back in Kathmandu, we had a good celebration and even made it onto Nepalese TV as a film crew visited the restaurant we were in."
The trekkers ranged in age from 43 to 64-years old.
She said: "Everyone who started out got to the top and we were all very proud of our efforts, especially considering the fact that none of us are spring chickens."
The charity is holding another trek to Everest Base Camp in November.