Jersey men's refuge had to rent extra beds at B&B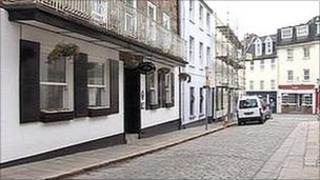 A men's refuge in Jersey had to rent six extra beds in a nearby bed and breakfast to meet demand in December.
Sanctuary House in St Aubin provides rooms for up to 10 men who have had a breakdown or are homeless after a relationship break-up.
Caring Hands, the charity that runs it, said it had been so busy it also had to send volunteers out to visit men.
Colin Taylor from the charity said they needed more space but he was reluctant to move the refuge away from the area.
'Right time'
He said: "It's all to do with funding, the trustees are looking at the purchase of the building and at the end of the day we do need more space.
"But one of the beauties of where we are is it's in St Aubin, it's near the beach, it's a relaxing atmosphere.
"We need to expand but it's all to do with funding, being the right time, the right place, the right controls and the right support."
Last month Deputy Sean Power, the vice chairman of the hostel, said: "We have a lease until the end of April and we're going to have to do something about that in the new year, as to whether we renew it or go for a bigger building."