Jersey Post issue stamps to promote the island for holidays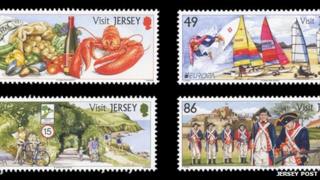 A new set of Jersey Post stamps promote Jersey as a holiday destination.
The four Visit Jersey stamps were designed by UK stamp artist Colleen Corlett, who also created the 2011 Jersey Post Christmas stamps.
Jersey Post said it was joining other PostEurop postal operators in issuing the Visit... stamps.
The stamps show tourist attractions including a Jersey beach and local produce, and two of the stamps have the Europa logo.
'Fascinating history'
Jersey Post said the Europa stamps were among the most collected and most popular in the world.
A spokeswoman said: "The four beautiful stamps cover a wide range of reasons why people should choose Jersey as a holiday destination.
"They include good local produce and seafood, sports and sandy beaches, green tourism and conservation and a fascinating history that covers thousands of years."
The stamp issue has a first day cover envelope with yachts and motor boats in St Aubin's Harbour, and the presentation pack shows an aerial view of Mont Orgueil and the Royal Bay of Grouville.
PostEurop is an association which represents the European public postal operators.