Jersey Occupation escape memories wanted for book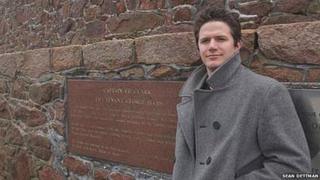 An American historian is researching the story of two men who escaped from a prisoner camp in Jersey during World War II.
Sean Dettman now lives in Jersey and wants to write a book about it.
He has been to the Jersey Archive to find out more about American officers Capt Edward Clark and Lt George Haas but also wants islanders' help with the story.
The two officers escaped from the prisoner camp in St Helier on 8 January 1945 and for 11 days were on the run hiding from German troops.
A number of islanders helped them to avoid capture.
On 20 January, they took a small boat from Gorey Harbour and rowed for 15 hours through a snow storm and gale-force winds to France.
They finally landed at Carteret in what Mr Dettman said was "one of the greatest escape attempts of the entire war".
'Captured separately'
He said: "It's an absolutely fantastic story. Essentially it began with the Normandy landings.
"In the summer of 1944 they were both members of the 6th Armoured Division and their job was to push south and secure the Cherbourg peninsula.
"On August 1st 1944 [Gen George Patton, of the US Third Army] led a campaign to break out of the peninsula and head south towards Brittany and on the second day of that campaign they were both captured separately on separate occasions but on the same day as it turns out."
Mr Dettman said Capt Clark had been a water purification officer of the Engineering Corps and had been en route to secure the lines of water when he was captured by the Germans.
Lt Haas was a battery motor officer and was in charge of the fleet of armoured vehicles.
He was flying a reconnaissance mission over enemy lines when he was shot down and captured and broke his leg.
Both were taken via Saint Malo, in France, to Jersey.
Mr Dettman said the two officers had begun discussing their escape when they met up again at the St Helier prisoner of war camp.
He said the two officers had tried to tunnel through the wall in the camp but were found out.
Lt Haas was put in solitary confinement for 10 days as a punishment.
During that time he memorised a map of Jersey and wrote directions on a piece of paper which he hid in his shoe.
Mr Dettman said they had then hatched another plan to escape and had made a ladder out of Lt Haas's crutches to get over a 10ft wall.
They then used a blanket to get over the barbed wire on the top.
The men chose to time their escape for 07:00 when the guards changed and used pillows in their beds to make it look like they were still in there sleeping.
After the escape, the men spent 11 days hiding, including three days in a hedge.
Islanders helped by taking them food, a compass and blankets.
Mr Dettman said he would love to hear from any islanders who could help him unravel more of the story.