Jersey officer's role in anti-piracy operations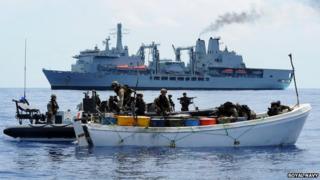 A Royal Fleet Auxiliary officer from Jersey has been describing his role in operations to capture Somali pirates in the Indian Ocean.
Will Jackson, has been on a five-month deployment to the Indian Ocean on board the 30,000-tonne Oiler Replenishment vessel, RFA Fort Victoria, as part of a combined force of NATO-led ships on anti-piracy operations.
The crew went into action to apprehend a suspected pirate dhow on 13 January.
The boat was identified as a known pirate craft operating in the shipping lanes of the Indian Ocean.
The RFA Fort Victoria and USS Carney worked together on the operation.
The Fort Victoria deployed a Royal Navy Lynx mark 8 helicopter with Royal Marine maritime snipers on board who fired flares and shots into an unmanned section of the dhow.
'Unlucky' Friday 13
The dhow failed to comply with orders to stop so the Royal Marines boarded and captured 13 Somali pirates who had what has been described as a "selection of weapons".
Capt Shaun Jones, commanding officer of RFA Fort Victoria, said: "I am extremely proud of the way in which my crew and helicopter in tandem with embarked Royal Marines were able to successfully capture these Somali pirates.
"To manoeuvre such a large ship at speed in close vicinity of a dhow takes extreme concentration and skill; my team were never found wanting.
"The 13 Somalis certainly found Friday 13th unlucky for them!"
Third Officer Jackson was the Officer of the Watch on board the RFA ship during operation.
He said: "It was a complicated set of manoeuvres requiring a high level of concentration and good communication but the team has been well-trained for this type of operation and it was very rewarding to be able to put it into action.
"I have been assigned to ships conducting counter narcotics and counter trafficking operations but this is my first counter piracy operation, and we have intercepted numerous suspected pirate groups."
He added: "As a watch keeper, eight hours of my day are spent on the bridge, having charge of the ship, execution of the navigational plan, ensuring collision avoidance in accordance with the International maritime 'Rules of the Road', and checking that the vessels we encounter are going about lawful business on the high seas.
"My last three trips have been onboard RFA Diligence, the RFA's forward repair ship which was also operating in the Gulf region.
"I have also served around the UK, Mediterranean and West Indies, and even got the chance to return to Jersey when RFA Sir Galahad visited the island during her final tour in 2006."