First iguanas born at Durrell in Jersey in 11 years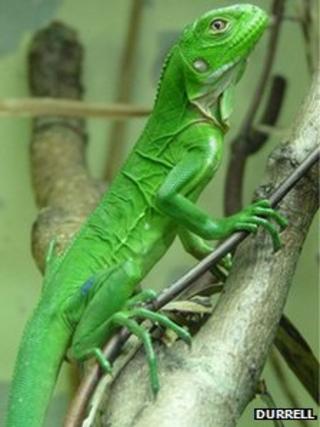 Two rare Caribbean iguanas have been born at the Durrell Wildlife Park in Trinity, Jersey.
The Lesser Antillean iguanas successfully bred at Durrell for the first time in 11 years.
The Durrell Wildlife Conservation Trust first bred a single offspring in 1997, followed by eight more in 2000.
Durrell said the iguanas were becoming increasingly endangered in the wild because of habitat loss, predators and interbreeding.
Mark Brayshaw, head of Durrell's animal collection, said: "We are delighted by the arrival of these new hatchlings.
"They are feeding and growing well, and we are continuing to monitor them carefully at our herpetology department.
"We will continue our efforts to breed the iguanas and are encouraged by this recent success."
The young iguanas are vibrant green in colour, but will become grey with cream hands when they mature.