Legal action considered over nitrates in St Aubin's Bay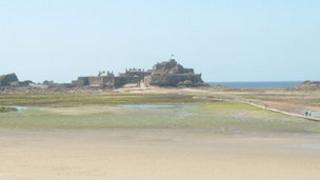 The attorney general is considering legal action against the Transport and Technical Services Department over the nitrate levels in St Aubin's Bay.
There are claims the department has failed to reduce pollutant levels in water coming from the sewage treatment plant at Bellozanne in Jersey.
Environment Minister Rob Duhamel said despite TTS spending millions improving the plant, it had had little impact.
TTS Minister Kevin Lewis said suing his department was a bit over the top.
Deputy Lewis said he accepted there was a problem and engineers were working to address it.
Deputy Duhamel said: "As far as I'm concerned there's no point in having environmental pollution laws if indeed the departments responsible don't intend to use them."
The latest figures show water quality in the bay is still at an acceptable level, although marine biologist Andrew Syvret said the build-up of green lettuce was a symptom of nitrate excess and raw sewage.
He said an outside agency needed to be brought in to monitor the situation.