Connex Jersey is 'on target' to double commuters by 2015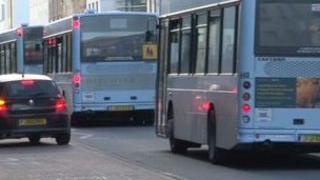 Connex, the company running Jersey's bus service, says it is on course to double the number of commuters by 2015.
More than three million journeys were made by passengers last year.
Two years ago a target was set to significantly increase the number of people using public transport to get to work. It had to double by 2015.
Figures compiled by Connex Transport Jersey Limited said the number of people travelling by bus increased by nearly 3% in 2011.
But there was more significant growth in the number of people using buses to travel to work.
'Further investment'
Connex says the number of commuter pass-holders rose by nearly 40%.
Looking at previous figures, there had been a steady growth in those getting the bus to and from work.
In June 2009 there were 861, but by December last year that was up to more than 1,677, an increase of 48% in two years.
The company said additional commuter services and new buses were persuading more people to use public transport.
Connex's managing director, Eric Le Roux, said: "Further investment in both the level of services, the provision of high capacity and comfortable buses... and innovations in technology such as smart card ticketing, will help us to meet these objectives by 2015."