Jersey Post stop priority service from March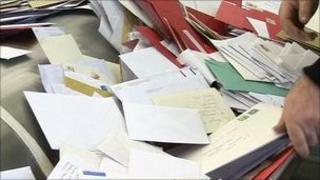 Jersey Post said they would be ending the two-tier postal service from March.
It introduced a priority and a delayed post at a reduced rate in November 2010.
Chief executive Kevin Keen said: "It has been clear for some time many islanders were unhappy with the two-tier service."
The company will end the split in March bringing the price of posting a letter in the island to 37p.
The change came out of a postal survey sent to 40,000 homes asking people for their views of the postal system.
'Had to be changed'
Of the 6,000 people responding, 69% said the delivery service was good or very good.
"With the majority of customer comments relating specifically to this system, there was no doubt that it had to be changed, which is what we are now doing," said Mr Keen.
Anyone who has purchased a large number of the priority 42p stamps will be able to take them to the post office in St Helier to have the difference refunded or swap them for more lower price stamps.
Jersey Post also said they were going to remove some post boxes that were not being used and adding a second collection for ones that were being used.
They have also announced a consultation into parcel delivery times.
They said they would look at the times of day they deliver parcels, the possibility of allowing people to collect parcels from local post offices and whether to deliver at night.