Jersey marathon man Mark Harris in new challenge for Headway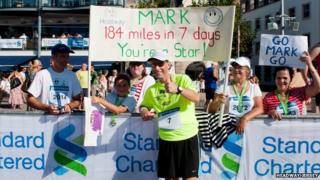 The Jersey man who completed seven marathons in seven days is taking on a new challenge.
Mark Harris raised more than £8,000 in his challenge for people affected by brain injuries in Jersey.
His 184-mile challenge took place in September, starting on 26 and finishing with the official Jersey Marathon on Sunday 2 October.
He said: "It was an amazing experience that was strangely enjoyable."
Mr Harris added: "I was humbled and incredibly surprised by all the support I received along the way."
He said the Headway Jersey charity was very close to his heart.
This year he plans to take a group of islanders across the water to compete in the Mont Saint-Michel Marathon in France.
The race starts in Brittany and finishes in Normandy and about 5,000 runners from around Europe take part.
Mr Harris said: "As part of my training last year I completed the marathon and it was a fantastic event.
"You can see the famous monastery throughout the course, I would definitely recommend it as a new challenge for local runners."
The event is on Sunday 13 May and Headway Jersey has organised travel, accommodation and race entry for 20 islanders who are willing to raise funds for the charity.
Ray Cooper, chief executive officer of Headway Jersey, said: "With this marathon so close to Jersey it seems like a great opportunity for local runners to travel to France to compete.
"We are very grateful to all local people who complete challenges in aid of Headway.
"The funds raised are essential so we can continue to develop services and support members locally who live life with a brain injury.
"It goes without saying that we are incredibly proud of Mark's achievement and very grateful for the funds he raised through sponsorship."