Jersey Sports Council budget is to be cut by 80%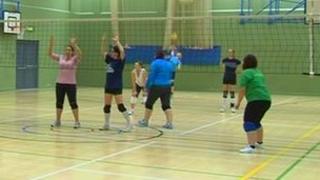 Jersey Sports Council will see its budget cut by about £140,000 from 2012 as part of wider government savings.
As part of the 2012 business plan the States of Jersey decided to cut the money from the sports budget.
Education, sport and culture minister, Deputy Patrick Ryan, said he had not decided how the cuts would be made.
The current grant is £176,000 per year but would be cut by 80% to £37,000 from April.
'Difficult decisions'
Deputy Ryan said: "Nothing is set in stone until I have made my mind up and I will do that by Easter.
"I don't want to build false hopes, this is a difficult task, these are difficult decisions. I am a huge supporter of sport and these kind of cuts will affect real people."
Hugh Raymond, Jersey Sports Council chairman, said any cuts that affected sport or the youth of the island were a real problem.
He said: "Most sports have planned their years in advance but there is no point training unless they have competition or money to compete.
"Last year 3,500 people had the benefits of grants from the advisory council. If that was reduced to the level we are talking about then the grant level would be very small and one would have to reconsider how many people you take away."
The money has already been cut from the Education, Sport and Culture budget. Deputy Ryan said it was a decision made by the previous minister.
He said: "The department feels the first priority is to look after youngsters and increase participation levels. There are no cuts at all to sports development officers and that covers the top seven sports in the island.
"I have tasked my officers to start work on a medium and long term sports strategy. I want to look at a redesign of how we encourage what is a crucial part of island life."