Jersey's Housing Minister calls for complete review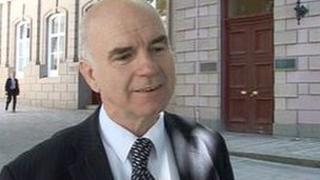 Jersey's Housing Minister has called for a complete review of the island's housing system.
Deputy Andrew Green said the waiting list for social homes in Jersey had doubled in the past six years to 522 and was still growing.
He also said some people were living in unacceptable conditions and he understood their frustrations.
He said he would be setting up a strategic housing unit to help with the review.
Jersey's Strategic Plan, which sets out the government's plans for the next three years, said long term under investment meant that 28% of States housing stock in Jersey was below UK decent homes standard and there was an annual funding shortfall of £6m.
The minister said there were plans for more investment but the recession was putting more pressure on the system.
He said: "We need to take a good look at this and not spend too long doing it."
The minister was asked in the States on Tuesday about the findings of last year's census, which showed there were 3,103 private properties lying empty in Jersey.
He said he would be investigating it as part of the review.
The minister added: "I am going to change the way people contact the department, not come through the contact centre, come directly to housing where they will be dealing with officers who know the situation."