New skipper needed for Jersey States tug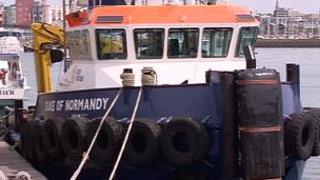 Jersey's harbour authorities will be looking for a new skipper to take charge of the States tug which was involved in a collision last year.
The tug master of the Duke of Normandy was replaced after it hit rocks in St Aubin's Bay in clear and calm weather.
The States tug, which had been chartered for a yacht race, had to go to the UK for repairs.
An independent report found instructions given to crew on the day of the accident were inadequate.
It found problems with what the tug master told the crew about the hazards in St Aubin's Bay.
An interview and selection process was carried out to employ the tug master on a short-term contract.
Now disciplinary action is being taken against the employee at the harbour who oversaw the application process.
The master has been replaced by a tug skipper from Alderney while the process of appointing a permanent and relief skipper is carried out.