Jersey hip replacement patients examined amid safety fears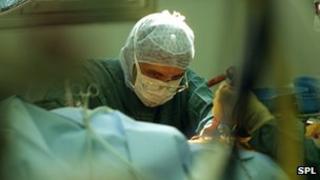 Two Jersey hip replacement patients are to be examined amid safety fears surrounding some implants.
Residents who have had the DePuy hip replacements elsewhere are advised to get examined at the General Hospital.
UK regulators recalled the implants as the metal wears and releases shards into nearby joints.
Jersey health officials said this type of replacement was only used on younger patients who are under 65, and that 11 had been fitted in Jersey since 2009.
The Health department said that two of those 11 needed further examination but other people who may have had them fitted outside the island were invited to the General Hospital for examination.
A spokesman for the department said: "Patients should be reassured that the risk of serious complications is relatively low, and would be associated with pain.
"In 2010 the UK regulator, the Medicines and Healthcare products Regulatory Agency (MHRA), issued a product recall for DePuy ASR, a brand of 'metal on metal' artificial hip.
"DePuy have confirmed that they will take financial responsibility for all appropriate investigations and treatment which may be necessary on this group of patients."