Concern about asbestos after fire at Jersey garage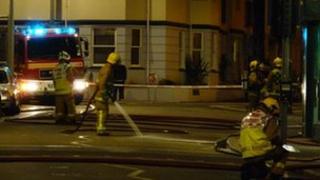 Islanders are being told not to pick up any debris from a major fire after fears it might contain asbestos.
People were spotted on Monday afternoon near the scene of Friday's fire in St Helier.
Jersey's Fire and Rescue Service said the blaze started at 20:00 GMT on Friday in a workshop behind the Hyundai garage in Elizabeth Lane in St Helier.
Neighbours were told to leave their homes and some businesses were told to close, but no one was hurt.
A spokesman for the fire service said there were concerns about asbestos, which they were looking into.