National Trust objects to Petit Port home plan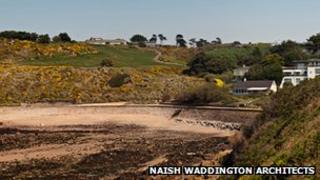 The National Trust for Jersey is against plans to develop a house at Petit Port in St Brelade into apartments, claiming it would affect views on all sides.
Neighbours nearby set up a group to oppose the plans to develop the house there, called Ker du Pons.
They argued it would be intrusive and would not fit into its surroundings.
But architect Mike Waddington, from Naish Waddington, said he did not think it would spoil the area at all.
He said they had been working with the planning department to reduce its impact and believed sea views for some neighbours would be better.
He said: "I believe it will be a big improvement, the existing buildings on the site are by no means great pieces of architecture."