Jersey company hopes to convert quarry into farmland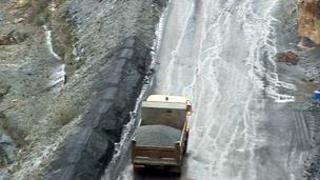 A company that runs a quarry in St Peter's Valley is hoping to use soil and other material to return part of the landscape to nature.
Granite Products wants to install recycling machinery that would allow it to convert quarrying material.
The machinery would convert material from quarrying it does not need into something it can use to fill in part of La Gigoulande Quarry.
The firm wants to turn the western part of the quarry into woods and farmland.
Kevin Bowler from Granite Products said they would recycle inert waste and use any non-recyclable material to fill in the quarry.
"It is a plan formulated many years ago to deepen the western part of the quarry and this is a follow-up to that and part of the restoration of the quarry," he said.
The recycled material would be used in concrete and concrete blocks and in the other lower-strength products the company produces.