Channel 103 radio station evacuated after gas leak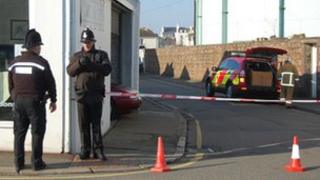 A Jersey radio station had to be evacuated after a gas leak in Tunnell Street.
Jersey's Fire and Rescue Service said a small explosion was reported on Tuesday morning but no one was hurt.
A house where the leak was believed to have originated was evacuated along with radio station Channel 103 and police sealed off the area.
The station was forced to play an automated sequence of music and adverts as staff were led to safety.
Fire station manager Richard Liron said: "We had a call about a small explosion, which really was just a flash as somebody investigated a smell of gas.
"Our main worry was about the build up of gas in voids, in the drains and in the neighbouring houses and, of course, that's why we've had to evacuate properties either side of where the leak was suspected.
"Those levels have been reduced to below explosive limits."
He said the gas engineers were drilling the road to look for the rupture in the pipe and the fire service would be there until it was under control.