Asbestos found after fire at Jersey garage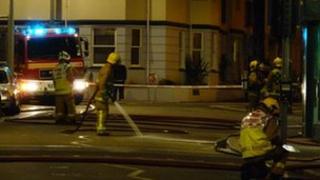 Jersey's Fire Service is reassuring islanders about the asbestos found after a fire in St Helier on Friday.
Martin Allix, a hazardous materials officer, said the asbestos identified at the Hyundai garage in Elizabeth Lane was in the form of corrugated roof sheeting and cement based.
He said this meant the only health hazard was posed by direct contact with the material.
And only the roofing sheets affected by the fire posed any health risk.
He said: "That material will not have travelled far and will affect only the immediate area around the fire scene.
"Members of the public potentially affected have been informed by the States of Jersey Police on the night of the incident and the following morning."
But he added if anyone found any fire debris in the area over the next few days they should inform the parish or the Health Protection Department.
Meanwhile, Tony Andrews, from the St Helier parks department, said the clearing of contaminated material from properties, gardens, roofs and lanes from neighbouring locations was now complete.