Rare plate 77 Penny Red for sale by Channel Islands dealer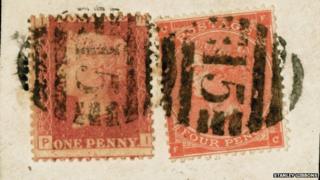 A dealer in the Channel Islands says it has acquired the "most valuable single stamp" it has ever had up for sale.
Stanley Gibbons said the "plate 77 Penny Red" - thought to be worth £550,000 - was one of only five used examples of the stamp ever reported.
A spokesman for the company said the Penny Reds were similar to the famous Penny Black, and although millions were printed on the so-called plate 77, the perforations did not line up correctly on some plates so were never released.
He said only a tiny handful of plate 77 Penny Reds existed, which had got into the public domain by mistake.
He added millions of collectors worldwide religiously checked every Penny Red they came across for the combination of two sevens, which he said was the "philatelic Holy Grail".
Vince Cordell, of Stanley Gibbons, said: "This example has graced some of the finest stamp collections ever formed and is not only a magnificent exhibition piece but one of the great rarities of Great Britain and world philately."
'Only one'
He added: "To date, four mint and five used examples have been reported, although some have not been seen for so long their authenticity is unconfirmed and often doubted."
Of the mint examples, there is one in the Royal Philatelic collection, one in the Tapling collection in the British Library, one in the Raphael collection that was stolen in 1965 and has not been seen since, and the fourth was in the Ferrary collection sold in the 1920s, but its authenticity was never confirmed and has not been seen since.
The used examples include two found in the early 20th Century that were damaged and have not been seen for more than 50 years, one in the Crocker collection that was lost in an earthquake in San Francisco in 1906, and one in the Adams collection now in the British Library.
The fifth example is the one for sale by Stanley Gibbons which it said was "realistically the only one that will ever be available on the open market".