Channel Islands freeview change to allow 4G services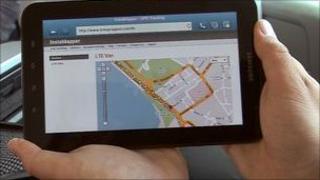 Freeview viewers in the Channel Islands will have to retune as transmitters are changed to make room for 4G mobile services.
People will start to see messages on screen telling them to retune on or after 29 February.
Digital UK said the changes would free up frequencies for future developments including 4G broadband.
Between now and the end of 2013, similar changes will also be made at transmitters across the UK.
Vital upgrade
David Scott, Chief Executive of Digital UK, said: "These changes pave the way for a host of exciting new products and services for viewers in the Channel Islands."
4G mobile broadband will allow people to connect to the internet more quickly over the mobile network.
Ian Campbell, Vice President of Airtel-Vodafone, said it was a vital upgrade as more people move to using smartphones and data use increases.
John Curran, from the Channel Islands Competition Regulatory Authorities, said he hoped 4G services would be available in the island within 12 months.
He told BBC News the regulator did not plan to auction the frequencies but would instead make them available to operators interested in providing 4G mobile products.