Islanders urged to remember importance of Jersey's Liberation Day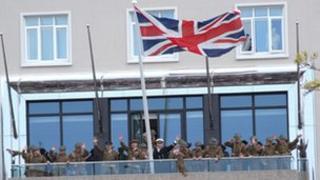 Islanders have been urged not to forget the importance of Liberation Day in Jersey.
The island's constables said although there were fewer people around who lived through the Occupation, Jersey must continue to celebrate its end.
They are asking local businesses to respect 9 May by closing for the day.
Constable John Gallichan, who chairs the constable's committee, said he hoped everyone in Jersey would continue to make Liberation Day special.
This year is the 67th anniversary of the liberation of Jersey from five years of German Occupation.
Constable Gallichan said: "Although there will be a number of other events to celebrate in 2012... we very much hope and would encourage all residents to keep Liberation Day special and to participate and enjoy the public celebrations and events which will be arranged on that day.
"This special status will be enhanced if non-essential shops and businesses also respect the importance of Liberation Day to Jersey and remain closed so that staff may enjoy it as a day off work."