Frustration over lack of progress over Jersey cycle routes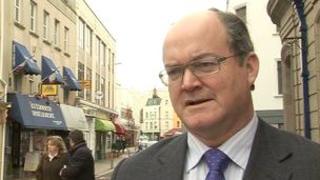 The St Helier Constable said he was frustrated about the lack of progress on routes for pedestrians and cyclists in Jersey's town centre.
Transport and Technical Services said it was still working on providing them.
A group had been set up to look more closely at road safety at certain junctions.
But Constable Simon Crowcroft, who is also a member of the St Helier Roads Committee, said the project needed more urgency.
'High priorities'
He said: "We've sent a previous minister a draft cycling strategy, that was two ministers ago if you like, and there's been no real progress on either cycling or walking.
"These are two really high priorities of the States of Jersey that have been in successive strategic plans and transport policies.
"All those promises seem like fine words when the department responsible seems to be making very little headway in developing any new thought or any new policies."
The constable added he would also like to see the speed limit lowered in residential streets.
He said introducing more 20mph zones would improve road safety and said parishioners had been calling for drivers to slow down for many years.