Jersey Police able to import Tasers after ban lifted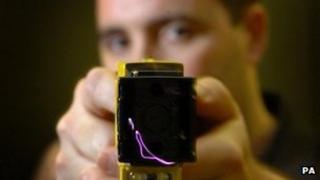 Police in Jersey will be able to purchase Tasers after the UK government lifted an import ban.
It was originally decided they could not be exported outside the EU as they could be used for torture.
This meant they could not be exported from the UK to the Crown Dependencies and British Overseas Territories.
The Foreign and Commonwealth Office has now acknowledged the need to allow the limited export of Tasers so opening up their sale to Jersey.
States approval
Jersey's Assistant Chief Minister, Senator Sir Philip Bailhache, said "We appreciate the hard work undertaken by the Ministry of Justice in conjunction with the islands.
"The resolution of this issue, in a manner that satisfies both Jersey and the UK Government, is a good example of the benefits of working closely together on matters that affect both jurisdictions."
The Taser fires two darts with a five-second 50,000-volt charge, which can temporarily disable a person hit by them.
Its ammunition consists of a single-use compressed air cartridge, which fires the darts and has to be replaced every time the weapon is fired.
It is seen as a more effective and "less lethal" alternative to conventional weapons.
Home Affairs Minister, Senator Ian Le Marquand, said he would not authorise the purchase of Tasers without approval from the States Assembly.
He said: "I want the States Police to be able to deploy the lowest possible level of response to serious threats to public safety. At present there are situations in which firearms are being deployed where the lower level of Tasers would be much better.
"It will, however, be necessary to set appropriate procedures as to when a Taser could be deployed or used. I will not authorise their purchase or use without the approval of the States Assembly."