Jersey Overseas Aid Commission gets £9m States funding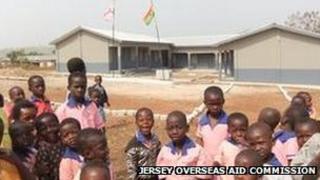 The States of Jersey has allocated almost £9m to fund charities and projects in the developing world.
Jersey Overseas Aid Commission said difficult economic times should not stop the island helping less fortunate parts of the world.
The commission is currently funding major building projects in Bangladesh, Nepal and Uganda.
Chairman, Senator Paul Routier, said its focus was to help the 50 poorest countries in the world.
"People recognise that we are a part of the worldwide community... and we have a responsibility, I believe, to respond to the needs of that world," he told BBC News.
The commission is made up of three States members and three non-States members - all of whom are appointed by the government.
A new school in Ghana that received help last year, was officially opened last month.