First Jersey homes switched to new superfast broadband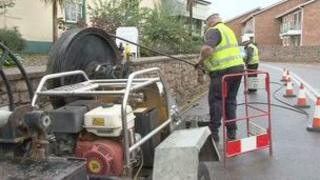 The first homes in Jersey have been switched to fibre optic broadband as part of a technology trial by telecom company JT.
The government-owned company expects the whole island to be switched to the new superfast fibre network with speeds up to 1Gbps by the end of 2016.
So far 24 homes have been connected to the trial, with more being added daily.
The trial is focussed on La Rocque, Fauvic and La Moye and is open to customers of all broadband providers.
JT said the number of homes taking part in the trial will be increased to 500 within the next few weeks.
The trial will see all customers broadband speeds at least doubled but some will be given 1Gbps speeds.
Graeme Millar, JT CEO, said: "Clearly it takes time to replace the island-wide copper cable network, and we need to do that in stages to minimise disruption and gain appropriate access to the 42,000 homes.
"Thankfully when we laid the copper, we did it in such a way as to make it as easy as possible to replace, which will help to keep that disruption to a minimum."