Jersey humanist says prayers have 'no place' in States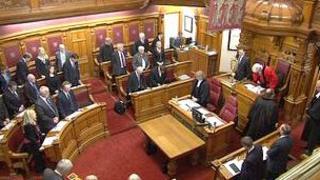 Prayers have no place in States of Jersey assembly sittings, according to the Humanist Society.
In the UK, the High Court ruled a council acted unlawfully by allowing prayers to be said in their proceedings.
Dr Reginald Le Sueur from the Jersey Humanist Society said religious acts should not feature in parliament.
The Dean of Jersey, the Very Reverend Bob Key, said the religious act was part of the island's heritage.
Dr Le Sueur said: "From our point of view they are unnecessary, we don't need prayers in the States any more than we need to swear on a bible in a court of law."
Mr Key said traditions and customs seemed to overule everything else in Jersey.
He said: "Jersey's parliament has had prayers before its meetings and Jersey's parishes have had prayers before its meetings since time immemorial."