Tasers would help Jersey police says minister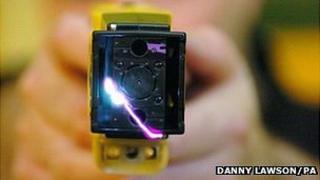 Jersey's Home Affairs Minister has said Taser stun guns would be helpful for police dealing with violent offenders.
The ban on exporting Tasers and their ammunition to the Channel Islands has been lifted.
Senator Ian Le Marquand needs States approval before allowing the police force to purchase them.
Deputy Montfort Tadier, from the Jersey Human Rights Group, said he was considering launching a petition against Tasers.
Deputy Tadier said there was probably no need for them in the island and his instinct would be to vote against them.
"My natural instinct is that I don't think in the Jersey context we have the levels of crime that would necessitate bringing Tasers to the island," he said.
But Senator Le Marquand said they would be a useful tool for officers in Jersey.
He said: "The particular area which they are needed is if somebody is wielding a knife, Samurai sword or something of that nature.
"You can't get close enough to them to deploy CS spray and the alternative is you end up deploying guns. We want to deploy the lowest level of risk possible and Tasers fit into that slot."