Jersey Young Farmers out of Battle of Flowers parade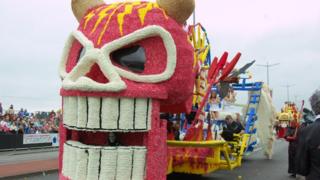 The Jersey Young Farmers Club is pulling out of the 2012 Battle of Flowers Parade after 40 years due to funding problems.
The youth group said it hoped to be back in the parade next year.
At a recent committee meeting members decided they could not afford to enter the event.
Club chairman Jack Luce said they were bitterly disappointed about having to make the decision as the Battle Parade had always been a big event for them.
Mr Luce said he hoped the club would be able to afford to enter the 2013 parade.
Battle of Flowers Association chairman Tony Perkins said he was disappointed with the decision.