Jersey Folklore festival confirms Van Morrison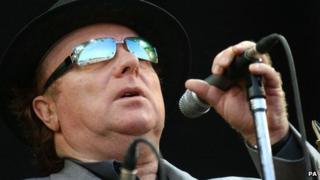 Grammy award winning singer Van Morrison has been confirmed as the Saturday night headliner for a new summer music festival in St Helier.
He will perform at the Folklore festival alongside Joan Armatrading.
The festival is run by the people behind Jersey Live and will take place from 30 June to 1 July.
To go ahead the event still needs to be approved by the Bailiff's entertainment panel, something organisers say they are working towards.
If approved, the event will have a capacity of 5,000 and be held in People's Park in St Helier.
One of the festival directors, Warren Holt, said the main stage would be "a showcase for musical legends and the legends of the future".
Warren Le Sueur, also a director, said: "With two legends in Van Morrison and Joan Armatrading already booked to perform, we envisage Folklore becoming an important new festival internationally.
"We expect a considerable number of attendees to travel from Guernsey, the UK and France - creating an important event-led tourism opportunity for the Island, at a key time when the Island needs to develop new economic activity."
Tickets are expected to go on sale in March.