Fog continues to disrupt flights at Jersey Airport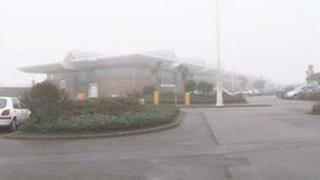 Fog has been causing a second day of flight disruption at Jersey Airport.
About 1,100 departing passengers were stranded in Jersey on Thursday after only six aircraft managed to depart early in the day.
Alan Donald, marketing and communications manager at Jersey Airport, said most passengers were understanding about the disruption and were advised to re-book.
He said passengers should check in as usual unless they heard otherwise.
Three flights had been cancelled on Friday morning and the mail and newspaper aircraft was delayed along with a number of other flights.
Sharon Merren from Jersey's Met Department said: "The very moist layer of cloud providing this mist and fog is thinner than yesterday [Thursday].
"So there is a better chance of seeing some thinning or lifting at times perhaps sufficient to allow some flying but that is unlikely to occur within the next couple of hours."