Jersey diabetics 'missing out on health tests'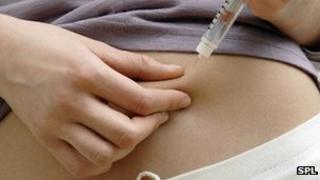 People with diabetes in Jersey are missing out on important health checks, says the island's diabetes consultant.
Dr Peter Bates said he was concerned diabetics did not have the regular tests designed to spot complications.
He said: "GPs need to get themselves organised to make sure they are able to deliver those checks to patients.
"Health need to make sure they're putting the resources into the hospital services that are required for our part of the bargain."
He said each year diabetic patients should have nine different health tests.
They include tests for blood pressure, blood glucose levels, cholesterol, and examinations of the eyes and feet.
But Dr Bates saidfigures showed more than one million diabetics in the UK were not having those checks often enough.
'Very badly'
He said: "Although we can't collect the data in the same way as the UK, we can collect quite a lot of data from what goes on in the hospital in terms of blood testing and urine testing and whether people are having their eyes photographed.
"Unfortunately I can tell you that in Jersey, if we were to look at exactly the same audit, we would be doing very badly even compared to the UK."
Dr Bates said it was important patients, GPs, doctors and the health department all did their bit to make sure patients got the nine tests each year.
He said: "The eye checks we are falling very badly behind on now.
"We're only able to take eye photographs every two to three years at the hospital instead of every year and that's one of the reasons why our figures in Jersey are so bad."