Jersey cycle event raises £11,000 for charity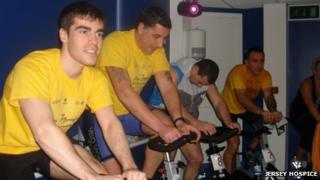 A man hitched a lift from Liverpool to Poole to make it home for a Jersey charity event in memory of his brother.
Jay Morris's brother Samuel was due to fly to Jersey for the spinning event, but due to fog he had to get to Poole and catch the ferry instead.
His father, Alan Morris, said his son was delighted to make it for the last half hour on Saturday.
The event was in memory of Jay Morris, who died from cancer in 2003, and raised £11,000 for Jersey Hospice Care.
Alan Morris said Samuel was determined to get there and said "everybody there applauded him when he came in".
'Outstanding'
Jay Morris was a founder member of the Velo Sport Jersey cycling club.
He and his family set up the spinathon to raise awareness of cancer, but he died a few weeks before the first event took place.
The event, which is in its 10th year, saw 90 people take part.
Alan Morris said over the years the event had raised about £146,000 for the charity.
He added: "It was a brilliant day, the efforts of everybody who took part, not only in the cycling on the stationery bikes, but also in raising the money, that's outstanding."