Jersey chef training essential, says Mark Jordan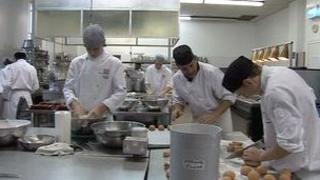 It is essential to train young Jersey chefs to keep the industry in the island, the vice chairman of the Craft Guild of Chefs has said.
Local chef Mark Jordan was appointed vice chairman of the guild when it was launched at Highlands College in March.
He said it was established to promote the island's hospitality industry and local restaurants.
Mr Jordan said: "Hopefully we can get to the young kids, get it bigger and bigger."
The guild will be based at the culinary department at Highlands College, which trains young chefs for the industry.
Past students from Highlands have gone on to work with Jamie Oliver, as well as at Michelin-starred restaurants in Jersey.
Mr Jordan said: "I have been here 26 years as head chef, I am not going to do it for another 26 years.
"I want the guys here to do things like Glenn Noel, he is 19 years old and is tipped as Jersey's first homegrown Michelin star chef.
"I think it is the likes of these guys who keep moving through, it is a revolving thing. The old ones become consultants and the young ones keep it rolling."