Stamps issued for Jersey Airport's 75th anniversary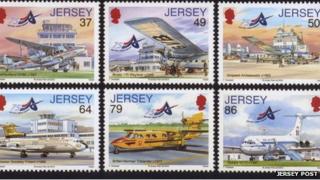 A set of six stamps are being issued to mark the 75th anniversary of Jersey Airport.
The stamps, designed by Tony Theobald, show different aircraft that have landed at Jersey Airport during its history.
The stamp set comes with a miniature sheet and a booklet which has images and information about the airport.
Jersey Airport was built on privately owned fields in St Peter in 1934.
The airport opened on 10 March 1937, and the set of stamps will be issued on Saturday to mark the 75th anniversary.
Doug Bannister, group chief executive officer for Ports of Jersey, said he was delighted by the commemorative stamp collection.
"The airport has played a significant role in everyday island life for the past 75 years and the information booklet and accompanying stamps are a wonderful reflection of this."