Jersey charity employs cancer nurse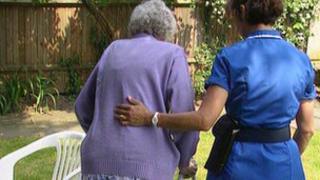 Money raised at a Macmillan Cancer Support fundraising event has been used to pay for a dedicated Jersey cancer nurse.
A dinner on 28 January raised £18,891, which will be used for a dedicated palliative care nurse.
The charity relies on donations and provides free services to cancer patients, their families and carers.
Chairman Brian Frith said it would pay for "the gold standard for palliative and supportive care at end of life".
Mr Frith said it would bring the team of Macmillan Jersey funded clinical nurse specialists in the island up to three.
He said: "The newly appointed Macmillan Nurse Project Facilitator, Nicola Ironton, will be based at the General Hospital with Angela Bradshaw, an experienced palliative care specialist nurse, who we funded in 2011 for a three-year post.
"In making the appointment we have worked closely with the General Hospital, Jersey Hospice Care and with Family Nursing and Home Care through a recently formed information sharing group [called] Partners in Cancer Care."
Barbara Selvon, the head of nursing ambulatory care services, said: "The specialist advice and support that Angela and Nicola provides to the hospital will enhance the care and support to patients at the end of their lives, their families and carers, while they are an inpatient in the hospital."