Swimmers raise £141,000 for Jersey charities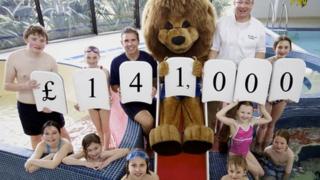 Swimmers in Jersey have raised £141,000 in the 2012 Lions Club Swimarathon.
There will be 23 different youth organisations who will benefit from the funds raised in the five day event.
Mike Labey, president of the Lions Club of Jersey, said this year's event had "exceeded all expectations.
"Thanks to the 447 teams of around 4,000 swimmers who took part this year, we are able to pass on a fantastic sum to a wide range of youth clubs, organisations and projects."
He said this year was the 41st consecutive event, making the swimarathon "the island's longest running charity event".
Mr Labey said the swimarathon had raised £2.8m since its inception.
Mark Capern, the head of Jersey's Youth Service, said: "Jersey's youth clubs and projects are always very active, with plenty going on and limitless ideas for the future.
"This funding is a fantastic bonus that will allow organisers and youth workers to broaden activities and services to meet the needs of young people."