Broadcasting House sign returned to BBC Radio Jersey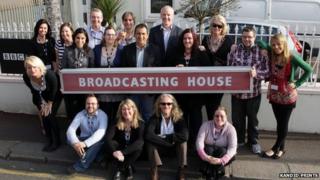 The States of Jersey has given BBC Radio Jersey the "Broadcasting House" sign that used to hang on the station's first home.
The Jersey police financial services unit is currently based in the building that started life as the Summerland knitwear factory.
The police will be moving and the building demolished as part of plans to move the station to Green Street.
The 6ft-long sign has hung on the States-owned building for 30 years.
It was taken down on Tuesday and is being given to BBC Radio Jersey as a gift to mark its 30th anniversary.
The sign was on the building in Rouge Bouillon where BBC Radio Jersey used to broadcast from 1982 to 1994.
But BBC Radio Jersey cannot use the sign or re-adopt the name Broadcasting House until after the old building is demolished in the next 18 months.
BBC Radio Jersey's managing editor Jon Gripton said: "Birthdays are about looking back at heritage and history and it's really rewarding the States of Jersey has paid tribute to our role in island life by giving us back our Broadcasting House sign."
The first programme on BBC Radio Jersey was broadcast at 19:00 on 15 March 1982, presented by Peter Gore.
It included speeches from the then Bailiff Sir Frank Ereaut and the former chairman of the BBC George Howard.
BBC Radio Jersey moved to its new premises one street down in Parade Road, St Helier, in 1994.
The small number of station staff could be seen pushing reel-to-reel tape machines to the new building on the Sunday before the move.
On Thursday, The Kevin Pamplin Show will return to Broadcasting House for a nostalgic broadcast with the founding editor Mike Warr.
BBC Radio Jersey staff past and present will be celebrating the birthday on Thursday and a special competition is being launched tosearch for a radio presenter.