Jersey minister-civil servant code of conduct 'needed'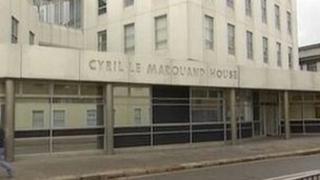 There should be a code of conduct for the relationship between ministers and civil servants in the States of Jersey, a report has recommended.
Chris Swinson, Comptroller and Auditor General, reviewed payments given to top States employees on leaving their jobs.
He found in four of the 10 cases investigated, there were difficulties in relationships with ministers.
Mr Swinson wrote the report about the so-called "golden handshakes" after concerns were raised by the public.
They came after it emerged the former top civil servant Bill Ogley was given a pay-out of £546,337.
Mr Swinson investigated the size of the severance packages and the reasons for them but kept the names anonymous in his report.
'No mutual respect'
He said found cases where political pressure had become unreasonable pressure on civil servants.
"In a number of cases, this may have reached a point at which there was no mutual respect between the chief officer and minister," Mr Swinson said.
The report also found that in none of the cases was a formal business case prepared that justified the agreement.
However, in a small number of cases the relevant chief officer had prepared a formal record of the basis of the agreement and the resulting payment had been justified.
His report recommended changing the States code of conduct for ministers to deal explicitly with the relationship between ministers and officers.
Mr Swinson said there should also be independent oversight of the relationships between ministers and officers.
Jersey's chief minister said the report's recommendations would be used to finalise new severance guidelines for the States.
Jersey's treasury minister, Senator Philip Ozouf, expressed concerns about the chief minister's department and the management of it.
He said: "Sometimes in politics one is called to make difficult statements.
"Under the new chief minister and new co-operative culture of working together which would not have been possible in my view without changes at the top despite it's unacceptable cost."