Jersey States needs people to count butterflies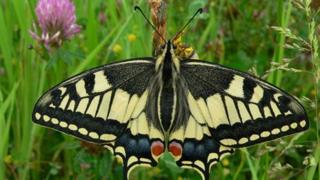 People in Jersey are being encouraged to watch out for butterflies as part of a monitoring scheme.
Volunteers are being recruited to make a weekly count of the insects at 36 locations around the island.
It is run by the Department for the Environment who are holding a one-day training event for those who want to get involved.
They said that recording butterflies can explain broad changes in the environment.
Natural Environment Officer Dr Paul Chambers, said the scheme helps measure progress against the commitments the Island has made under international environmental agreements.
He said: "Butterflies are sensitive to changes in local environmental conditions which, coupled with their rapid lifecycle, makes them ideal indicators as to the state of Jersey's environment.
"By monitoring the abundance and distribution of individual species from year to year, it is possible to measure the impact of local policy initiatives, such as agri-environment schemes, as well as the effect of local and regional environmental changes."