Jersey's Parklife Choir to release debut album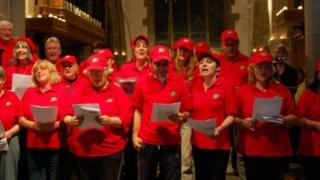 A Jersey choir that was set up to help people with alcohol and drug dependencies has recorded an album.
Parklife was set up in 2009 to give those going through a difficult time in life something to do.
The album was recorded with Jersey's La Ronde Concert Band and includes a range of song styles.
Gerry Padden, from the Grace Trust runs the choir and said in three years they went from a group just singing together to performing across the island.
He said the music on the CD would appeal to a wide range of people.
"It is all sorts of music, we have got stuff from when we first started like Bring Me Sunshine, but we have moved on to Andrew Lloyd Webber and all sorts," he said.
The Grace Trust was formed in 1999 to provide practical and personal help to some of the island's most vulnerable and needy.